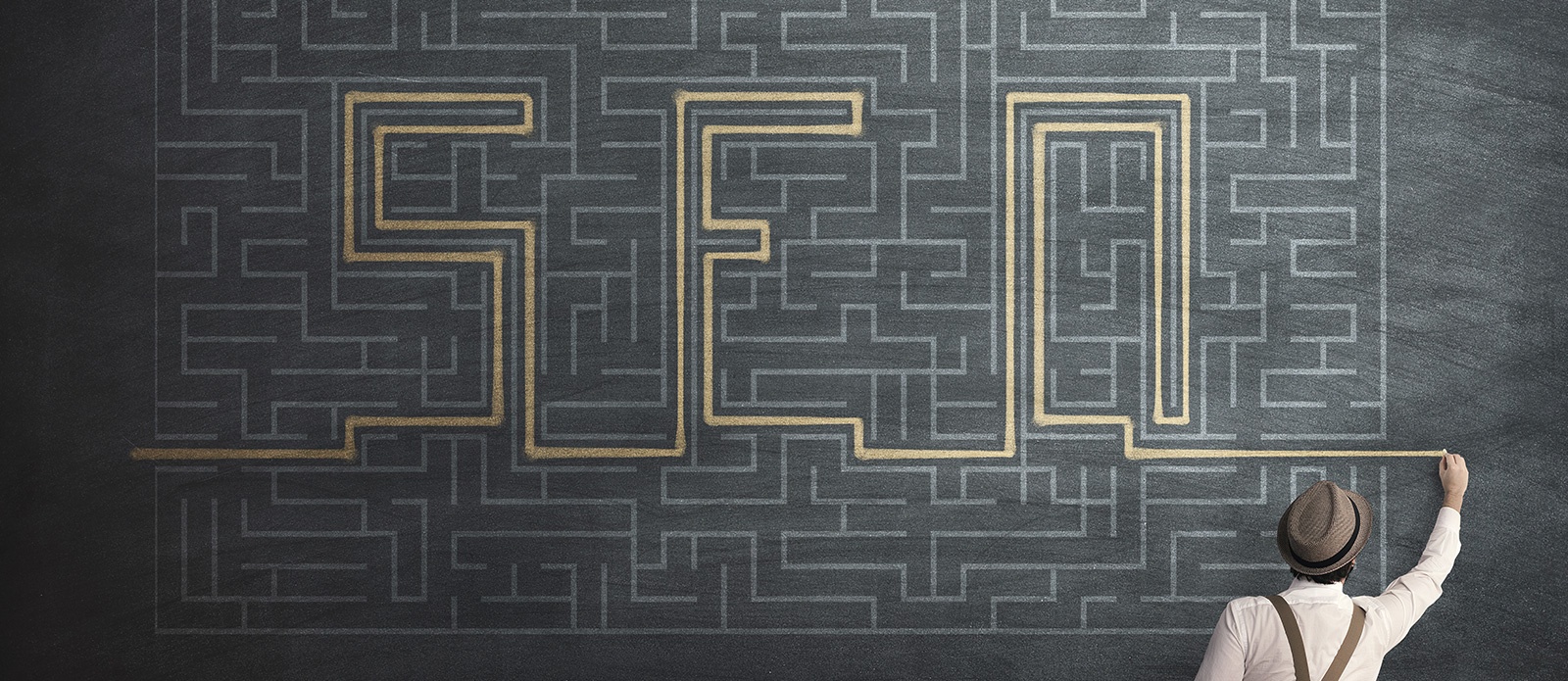 Here is the authoritative guide on 2018 SEO trends and the 5 ingenious website hacks to elevate your digital marketing.
---
Last year's 5 SEO trends to look out for in 2017 included Accelerated Mobile Pages (AMP), Penguin 4.0, Video, Voice Search, and Structured Data. A lot has changed since 2017. Below are our top 5 SEO trends for 2018 – your business can implement these strategies immediately to help with your inbound marketing and organic website traffic.
#1 – TOPIC AUTHORITY VS. KEYWORD AUTHORITY
In the past, websites focused on ranking for specific keywords in the hopes their page would rise to the top of the Search Engine Results Pages (SERP) for queries containing their keyword. Businesses would write exhaustive articles targeting one specific keyword.
With Penguin 4.0 Google started using Latent Semantic Indexing to organize their index. In 2018 your goal should be to become a topical authority on topics related to your business.
Painless Steps to Becoming a Topical Authority in 2018
Many organizations include a blog in their content marketing strategy. If you plan on publishing 1 blog post per week in 2018 here is a strategy to becoming a topical authority over 52 weeks.
Identify 4 Themes
First, you'll want to come up with four top-level themes that will educate your audience. These can be for any stage of the buyer's journey (awareness, consideration, and decision).
For example, if you sell designer sunglasses one content theme might be "Buy Sunglasses Online" (3,600 searches / month with a $0.73 CPC).
Identify 12 Sub-Topics
Next, for each content theme, identify twelve sub-topics that explain, expand, answer, or address the primary questions or challenges that relate to your primary topic. Three subtopics for your theme might be:

Sunglass Lens Material: Which one is the best for you?

UV Protection: How to buy sunglasses online that won't hurt your eyes.

3 Surprising Reasons Why Polarized Sunglasses are Worth the Price
Be Consistent
Each week write, publish, and promote one article on a sub-topic of your primary theme. Then, each quarter, build a pillar page for your primary content topic that serves as an "Ultimate Guide" to understanding your content theme.
If you follow these three, pain-free steps, you'll have created four exhaustive resources for your customer base, and engendering trust and solidifying your brand along the way.


---

#2 – USER ENGAGEMENT SIGNALS
Google's RankBrain algorithm update takes more than just keywords into consideration when ranking websites. One of their most important additions to the algorithm is user engagement signals. Signals like dwell time, bounce rate, and conversion rate help Google identify pages that are more likely to help users complete the goal behind their query.
Simple Design Hacks to Increase User Engagement
Optimizing your content marketing is the first step to increasing page rankings and conversion rates. Below are three strategies for sending stronger user engagement signals to Google.
Use Video to Increase Dwell Time
Dwell time is the amount of time a visitor spends on your website. The longer a user spends on your page, the better your page will rank in organic search results.
One of last year's trends was creating more video content. This trend isn't going anywhere, and it will continue to grow in importance in 2018 and beyond.
One way to increase dwell time is to embed videos on your page that relate to the objective of your article. For example, to increase the dwell time of any article, consider producing a short, 1-3 minute explainer video that recaps the main points of your article.
Use Accelerated Mobile Pages to Decrease Bounce Rate
Slow page load times and mobile friendliness are two primary factors that impact your bounce rates. If your page takes too long to load or is difficult to navigate from a mobile phone, visitors are more likely to bounce back to the Search Engine Results Page.
Accelerated Mobile Pages (AMP) are extremely lightweight pages that load in fractions of a second. If your company uses HubSpot's Marketing Platform, using Accelerated Mobile Pages is as simple as changing a setting.
Use Lead Magnets to Increase your Conversion Rates
A lead magnet is a painless content offer designed to convert a visitor into a contact. Brian Dean of Backlinko uses lead magnets to perfection.
In his article On-Page SEO: Anatomy of a Perfectly Optimized Page Dean places a Call-to-Action at the beginning of his article promoting an on-page SEO checklist. This CTA is effective because it offers the visitor a useful resource (a checklist) that solves their problem and is highly visible.


---
#3 – CLICK THROUGH RATE (CTR)
Organic Click-Thru-Rate is one of the most important SEO ranking factors. If people consistently choose other search results over yours you'll start losing organic traffic and rank.
Surprising Tips for Writing Headlines that Earn Clicks
Behind every search query is a person with a specific goal. And behind every piece of content you create there should be a specific question or challenge you're trying to help people solve. Below are five tips you can use to write more click-worthy headlines.
Format
People want to know what they're getting before they make a decision. When drafting your headline, include the content's format in the headline. Content formats include lists, quizzes, ebooks, and infographics among others.
Emotional Hook
Humans are emotional creatures. We respond to emotional stimuli like joy, awe, and fear. When writing a headline try and trigger the lizard brain by including an emotional adjective. Try adjectives like surprising, clever, funny, or shocking to provoke the curiosity of your audience.
Offering
The offering is similar to format in the sense that people want to know what they're getting. What does the list include? What is the infographic about? What will the quiz help me understand?
Be clear about what your article is offering. For example, this article offers 5 SEO Trends and strategies for your business in 2018. We could have also used words like tips or hacks.
Promise
Your headline includes the format and offering, but how will the reader benefit from this? When writing headlines, try to include a promise that your article keeps. This article promises to elevate your marketing in 2018. Words that elicit a promise include improve, fix, or educate.
Keyword
Last but not least, your title needs to include the primary keyword you're trying to rank for. Generally, keywords should be front-loaded at the beginning of your headline.


---

#4 – MOBILE FIRST INDEXING
In 2017 it was announced that Google will be rolling out mobile-first indexing. According to Google mobile-first indexing means, "we'll use the mobile version of the content for indexing and ranking, to better help our – primarily mobile – users find what they're looking for."
With over 50% of Google searches happening on smartphones, Google's goal is to provide their customers with the best possible search experience.
Easy-to-Follow Steps for Preparing your Website for Mobile-First Indexing
Responsive Website Design
If your website is mobile responsive and is the same as your desktop version you won't need to do anything. Although, if you want to take this opportunity to bolster your rankings, there are some SEO improvements you can make to enhance your website.
Separate Mobile Site
Some companies have a separate mobile website on a different URL (m.domain.com). If your organization has separate mobile site you'll want to ensure your mobile site mirrors the content and structured data that's on your desktop version so your website doesn't drop in rankings.
Non-Mobile Website
If you don't have a mobile responsive website or you're not sure, run a mobile-friendly website test to see how your website performs. If your website isn't mobile-friendly, redesigning your website should be a top business priority in 2018.
---

#5 – VOICE SEARCH
With the proliferation of voice search enabled devices like Amazon's Echo and Google's Google Home, optimizing content for voice search has become an increasingly important component of businesses marketing strategies. In 2018 we're going to see more gadgets and use cases for voice search.
Creative Ways Your Business can Leverage Voice Search
Developing a marketing strategy that supports voice search can be challenging. However, these three strategies that businesses are using right now can help you figure out a way to capitalize.
Skills
Amazon's Alexa uses "skills" to provide their customers with more uses for their smart devices. Companies like Uber and Starbucks have developed skills specifically for their customers who own a smart assistant. So if you own an Amazon Echo you can ask Alexa to call an UberX and place a mobile order at the Starbucks around the corner from your office.
Local Marketing
Google Home presents even more opportunities for businesses to get involved with voice search. Voice search queries can be categorized into four categories:


General Information (30%)

Personal assistant (27%)

Local Information (22%)

Fun and Entertainment (21%)
To rank on Google Home for general information queries your website needs to be the featured snippet, or rank position 0, to appear in results.
According to Blue Corona, ranking on Google Home for local service providers is based on results according to, "relevance, prominence, and distance." Business profiles pulled by Google must be "verified, completely filled out with accurate information, given a high number of positive reviews, supplied with current photos, etc."
Google will then "use your current location and pull results from Local Services by Google, HomeAdvisor, or Porch before pulling organic results," and deliver a list of results via email.
To rank on voice search it is important that your website leverages structured markup and that your Google My Business listing is completely optimized.
Voice Search SEO
As consumers continue to adopt smart home devices, the need for a voice search optimized website will grow. To optimize your website, add the following tactics to your SEO to-do list.
Build your content around questions
Focus on the who, what, why, when, and how related to your niche. A great place to start is building out Frequently Asked Questions page on your website. When you're writing questions use long-tail keywords that are written in a conversational tone.
Structure your Content
This may sound like a given, but in order to rank in position 0 as a featured snippet, it is important that the page you're trying to rank is structured with headers and lists appropriately.
Only pages that are already on the first page of Google will be able to be used for the featured snippet section. For example, if you want your recipe to be featured, make sure your page includes header tags for the recipe and each step of your recipe is labeled with a header tag.
Use Schema Markup
Google loves websites that use schema markup. Additional information in the form of metadata is especially useful when it comes to elevating the visibility of your local business.
---
This year is going to be another massive year for SEO professionals and businesses alike. Changes in Google's ranking algorithm, mobile-first indexing, and the acceleration of voice search are shaking up how businesses need to approach search engine optimization in 2018.
5 SEO Trends FROM 2017
1. Accelerated Mobile Pages by Google
Accelerated Mobile Pages (AMP) deliver mobile content to users at exceptionally fast speeds. Specialized HTML code can load mobile pages around four times faster than pages without it. While Google maintains that AMP websites aren't given priority in search engine results pages, the faster, smoother user experience they deliver results in more clicks, impressions and conversions.
2. Penguin 4.0
Google's new Penguin 4.0 algorithm now identifies spammy and low-quality websites in real time. This means webmasters no longer need to wait months for Google to recognize improvements made to content and usability.Penguin 4.0 examines every page on a website, which means the need for informative, well crafted content has never been greater. Check out an example of on of our high-quality websites for reference.
3. Video is King
The influence of video in SEO will continue growing during 2017. Facebook has already stated its intention to make video the predominant content type by 2020. And the likes of Vine, Periscope, Snapchat and Instagram are all improving their video functionality this year. The use of video content in search marketing is set to grow considerably in 2017. If the rumors are to be believed, Google will be getting in on the act too. The search engine behemoth is reportedly trialing video ads in its results pages. Recently a few of our clients prioritized video story-telling s as a means to attract visitors as well as express their brand in a compelling way.
4. Voice Search
There have been some major advances in voice recognition technology in recent months, so expect to see the use of voice search gain some serious momentum this year. The ability to search for information hands-free and on the move is making life simpler for millions of consumers. Voice recognition software is becoming more intuitive all the time, so marketing professionals will be taking it very seriously in 2017.
5. Structured Data
Structured data is formatted in a way that can be universally understood by all the major search engines and Internet directories. The easier it is for the likes of Google, Microsoft and Yahoo to crawl a website, the higher up in search results that site is likely to be. Schema, for instance, was developed through a collaboration between all of the major search engines. Expect to see structured data being rolled out in a massive way by search marketers in 2017.
---
Staying ahead of the game in the world of SEO is crucial to the success of any inbound marketing strategy -- so embrace these important marketing trends for a successful 2017. If adopting something new is difficult, you can also reference these outdated techniques and look first at eliminating old and ineffective methods.
If you want to increase web visitors to your site, we can help.
---